Today I celebrate my dear friend, Renee, on one of her milestone birthdays, I want to share some of the fun and adventures we have had over the years. We met at The Space Between, a mid-week, 20-something gathering at Southland Christian Church.  As engineers are apt to do, we gravitated to each other, or maybe we were divinely guided, either way, the fun started immediately and has never stopped.
Here is just a fraction of the fun we have had together over the last 12+ years:
We tap into our creative side at Halloween coming up with no-cost costumes we can wear together. As engineers, we still have to be thrifty! We've have been the Nancy Kerrigan and Tonya Harding duo, beach volleyball players, and one year there was a biohazard theme going on at my house.
We have celebrated birthdays and weddings.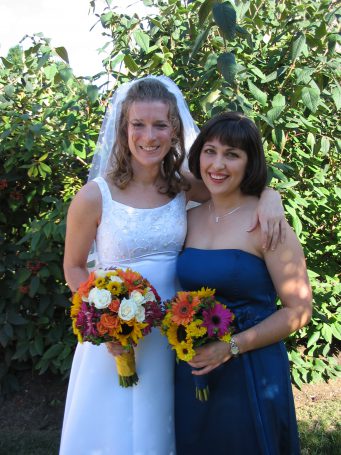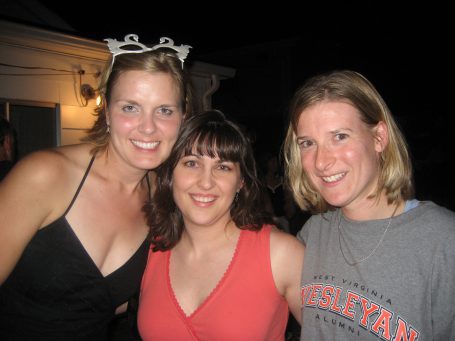 There have been bad recipe parties, progressive dinners, Oreo elections, free root beer float runs all around town, and weekly dinners together where the only rule is a new recipe must be tried and pizza is always the back-up plan.
Renee and I have met up in Huntington, West Virginia; Vasteras, Sweden; and the Noordam cruise boat in Vancouver, BC. I have visited her in Columbia, South Carolina. We have traveled to MI and NY together.
Renee invited me to Pumpkinfest one year, an annual event I always look forward to assuming Renee still invites me!
My only ice skating lesson came about because of Renee. I had a blast and know why she likes it! We have attempted "vaulting" at the Horse Park during a warm-up event prior to the World Equestrian Games. Attended musical events together. I have watched ice skating shows and routines. We have even made pretzels together. Truly I think we would try just about anything!
We have looked after each other's houses, collected mail, checked on pets, painted, cleaned, removed wallpaper, worked in the yard, and all sorts of other chores and duties for and with each other.  I can only imagine the people we have entertained taking all sorts of crazy items down the street from one house to the other – a vacuum comes to mind as one of the items.
Renee – you are my best friend and I cherish the silly, the fun, and the crazy that happens when we get together. You have taught me how to snag a good deal, shared the best places to thrift shop, taught me that just about anything can be categorized and analyzed with spreadsheets, inspired me in your adult hobbies, introduced me to a cat with the biggest personality, and I discovered our comfort zone is huge when the two of us are doing it together. I look forward to where in the world we will rendezvous in the next 12 years. I also chuckle thinking about us as old ladies! I send you all my best today from Kentucky and wish hugs and smiles could fit in an envelope to sent through the mail. I love you my friend.