During our recent Europe trip, we decided to hop on over to Whales, since it's so close to Bristol. What we hadn't accounted for was how big of an adventure it would be. Be warned this is a very long blog post. The pictures and captions make for a great quick version.
"I guess it is about time for us to get back to the bus station," I said glancing at my watch. "Instead of taking the sidewalk, I bet we can take this path," Jen responds. We had spent the last couple hours exploring the Chepstow Castle, admiring the view of the river and cannon ball damage. Next on our schedule was a bus ride to ruins of Tintern Abbey.
We begin down the path and there is a tourist information sign, the type that is along thousands of paths the world over. Having a propensity to read signs, my wife waits so I can see what is has to say.
The sign is a map that shows the castle with a "you are here" arrow pointing to it. Also on the map is Tintern Abby. Connecting the two is the Wye Valley Walk. We stop in at the tourist info center 100 meters away and ask for more information about this "walk".
"How far is it to walk to Tintern Abbey?"
"About five and a half miles. The walk is marked with flying salmon."
"Great!"
"But right now, part of the walk is closed for refurbishment. There are diversions."
"Are the diversions marked?"
"Yes, they are well marked, probably better than the regular walk."
Jen and I are usually up for a good hike. 5.5 miles isn't too far, especially since we know we can take a bus back. We head down the black asphalt road, it's not yellow and not brick, but it will do.
We walk by the castle, then past a school, which is letting out. On our way out of town we see a sign marking the 'diversion.' What we in the U.S. would call a detour. Of course I stop to look at the sign, and while there is no "you are here" printed on the monocrome map, it doesn't take much to identify our current location. We follow the route and head out of town.
We pass through a wooded park. Ahh, another sign. "It looks like we're supposed to go straight through the field," I announce. Jen confirms, "yep, looks like it." We proceed through a small gate, over a hill and see something we have never encountered on a trail before: sheep.
This is just too cool. So we decide to enjoy the sheep pasture for a little longer and have a snack. We are clearly on someone's farm. We had heard that in the UK public walking trails cut right through private farms. The path is very obvious, after our snack we continue down it.
We come to the end of the field and enter some beautiful woods. We hike along a ridge overlooking the river. Such a gorgeous hike, and it is not crowded at all. We haven't seen anyone since we passed the school.
As we come out of the woods, another detour map. Yep, we're still on the right path. "Looks like we need to do a little zig-zag and cross the road," I announce. We do and find ourselves walking along, and on top of, a field of 3 inch high sprouts. We both attempt to tread lightly, hoping we don't damage much of some farmer's crop.
Each stage of the hike has taken us through different terrain. We know the detour ends at about the half way point. Almost two hours in, it feels like this might be longer than a five and a half mile hike.
We find the end of the detour, which is conveniently at a picnic and parking area. We take in our backpack full of "energy," a term that makes "calories" sound so much more appealing.
Now where to from here? The picnic area contains a couple signs we investigate nearly a dozen times, between the two of them and the two of us. We wander off in what must be the right direction.
At the top of "365 steps" we find our first flying salmon since lunch. "I think we took the long way up the hill" says Jen. "The diversion does seem like it is marked better than the regular trail," I conclude. No use complaining, we're at the top of the hill and walking through a forest.
This forest is the kind of seen in movies. It is filled with the brightest greens that have ever made their way out of a children's book.
We continue along, spotting small flying salmon marking every few hundred meters. Keeping an eye on the time, we have to be getting close now. The forest ends, and we're in another field. More sheep! On to a step, and over a fence, and now cows. Awesome, picturesque black and white cows. They're curious and we're having a blast. This is not something we see when hiking close to home at the Red River Gorge.
We see a sign post in the distance. Crossing the dry creek bed it takes only a couple minutes to reach it. It is at the intersection of a little one lane country road and the path we had been on. There are a couple wooded arrows. One pointing towards a church, but no mention of the abbey ruins, which are our destination.
Without any reason to think otherwise, we continue walking in the same direction. We keep any eye open for any fence crossings or other path markings. I'm starting to think, I really wish that sign mentioned the abbey. We find ourselves among more cattle, not as picturesque as the previous herd, but still cool. Neighboring the cows is the church that was mentioned on the sign.
This doesn't happen to be the one Sunday a month when the church is in service and there is no one around. The information board by the church has a crude map. It marks the path we are on, an arrow mentioning the abbey and an arrow towards the church parking area, up over the hill. Oddly, the arrow pointing to the abbey and the path on the map don't go in the same direction.
"Do you see a path through that field?" I ask Jen. "Not that I can see" is her response. "Okay, you go around the fence, looking for a path marking, and I'll go straight through the field." We set out, but there is a bull staring me down. Suddenly, joining Jen along the fence doesn't sound like a bad idea.
After a 5 minute walk we reach the other side. Nothing, not a fence crossing, not a sign, not a trail marking. Maybe I miss read the map at the church. Considering we didn't actually have a map, we head back to the church's map. No new clues are revealed. "We should head the the parking lot," the tired version of myself suggests. Up the hill. The parking lot is on another little one lane road. After standing there for 5 minutes we realize there is not a great chance of anyone passing by anytime soon.
As the day becomes later and our energy wains, we realize that we might be lost in the middle of a foreign country. We can't really go back the way we came, we left nearly 5 hours ago.
We say a little prayer by the church and decide to head back to the arrows where the path crosses the first little road. There are some barns and we can see a pretty good distance. Worse case, we follow the road for a while until it comes to something. As we near the road, we see an old man and a dog come and sit down. We haven't seen anyone since the green forest. An answer to prayer, someone to ask for direction.
His dog is excited to see us and makes for a natural conversation starter. (This way we don't seem too desperate or too lost.) I mention, "We were headed to Tintern Abbey but seem to have lost our path." He replies with the accent you would expect from an old man in the-middle-of-no-where Wales, "Ah, yes. You came off the path a while ago. The easiest way to get there would be to go back down this hill, and follow the valley to the left." "The creek bed?," I ask for clarification. He reiterates. That is the way we're supposed to go.
We arrive at the dry creek bed and follow it to the left. We praise God for giving us someone to point us in the right direction.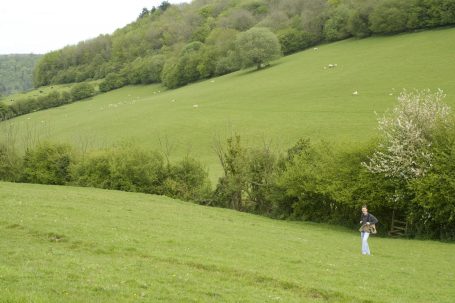 With smiles returning to our faces, we hear a weird sound up ahead. It gets louder as the source comes into view. It is the thing we would least expect to see at this moment. We see a dirt biker enjoying the challenge of the rocky valley. Wanting to make certain I understood our friend, the old man, correctly, I ask if we're headed the right way to the abbey. He responds over the noise of his idling dirt bike, "Yes, just follow this for about a mile." In just a few more minutes we see a trail sign.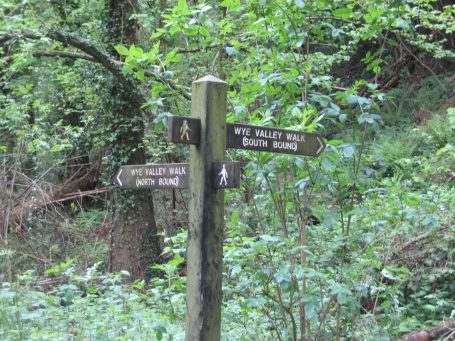 "So it looks like we should have gone straight instead of taking a left," Jen states as we piece together what went wrong, "but didn't we see trail markers?" At this point it all starts to come together. We saw plenty of trail makers, taking us through the the cow pasture, and up to the church, but they weren't flying salmon trail markers.
The tree covered creek bed ends behind an old building. Making our way around we see the abbey. I see the bus stop in front of the abbey and glance at my watch. "We just missed the bus." We didn't have a map of the hike, but we knew our planned bus times.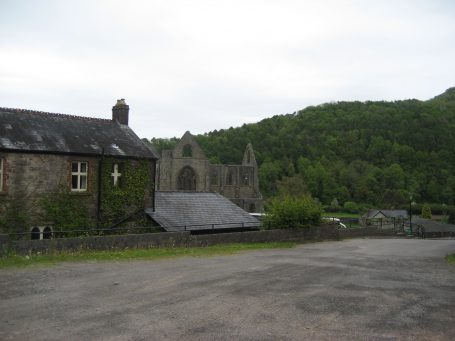 The guy in the gift shop confirmed the bad news. The next bus didn't come for a couple hours, but they did sell ice cream. At this point we were in no mood to look at the abbey, so we just waited and enjoyed some ice cream and cold water.
"I'll meet you at the bus stop," I said to Jen as I headed towards the restroom. Nearly two hours had passed and we were ready for our adventure to be over. When I got to the bus stop there were two people waiting. One being my wife, and the other, being a guy in his late 50s or early 60s talking to her.
His accent is heavy, and while we can't understand everything, we gather that he once lived in this town. He liked to talk, but wasn't much of a conversationalist, he also hadn't been to the dentist recently. We definitely weren't late for this bus and as we saw the old clunker of a bus come down the road, I was secretly hoping our new "friend" wasn't going to keep us entertained for the 20 minute bus ride back to Chepstow.
He didn't, but we did have a problem when we got to Chepstow. By missing our intended bus from Tintern, we missed our intended bus from Chepstow to Bristol. I checked the signs at the unmanned bus station. "We missed the last bus to Bristol" I told Jen, trying to fight back my "what's next?" voice. Out from the other side of a bus time poster pokes the heads of two middle aged women. "Sorry for being nosy. But did I just hear you say you missed the last bus to Bristol?" Glancing over to catch Jen's expression, I respond "Yes, you did." "Well, we missed the bus too."
I said earlier it was getting late in the day. Let me remind the reader, that this is "late in the day" by little-town-in-Wales' standards. It was only 5:30.
Bus stations, even un-manned ones are a hub of transportation. A taxi stand nearby had a cab or two waiting for a gig. I walked up to the nearest taxi and ask the driver how much a trip to Bristol would be. I was hoping it would be cheap, but by this point we didn't have a lot of options. "Um, to Bristol? About £35," was his response. Since the two middle aged ladies were also in need of transportation to Bristol, we split the fare.
We made it to Bristol City Centre just in time for the rain to start, and after one last walk bringing our total for the day at least 8 miles, arrive back where we started wet, but happy to be "home."