Shadow came to us shortly after we returned home from vacation in the fall 2013. Her future owners had been picked out, but given her personality, Liz, the trainer, felt she needed to live in a home, away from Liz, prior to going to her permanent residence. She is a doodle, a mix between an Aussie and a poodle. White and brown, with a nubbin of a tail, one blue eye and one brown eye, 25 pounds, and about 14 months old when we got her. She spent about five weeks with us. The first part of her life was spent at a puppy mill. She had already had some pups, the evidence was her swollen teats.
The day before we got her she got fixed, so she was a bit groggy and likely sore the first several days. She was incredibly cautious and timid at first. Several days passed before she decided to eat food rather than go through the motions of burying it. In my attempts at enticing her to eat and find a treat she would work for, I discovered she did not care for peanut butter, but was a huge fan of cheese, even better, cheese whiz! It took over a week for Shadow to work for me. I think she was feeling me out and once she decided I was ok, she would do anything I asked. She was hesitant to sit for a couple weeks. I think this was due to discomfort from her surgery.
The first night she spent in her crate quiet as a mouse. The second night she serenaded us from her crate with a rather large variety of howls, barks, whines, and yips at varying degrees of loudness. It was honestly quite entertaining and we appreciated her variety. She settled down eventually.  In the morning, Peter discovered that she had managed to open the crate door because she was walking around the house. Thinking back, she probably escaped her crate at the time she quieted down.
Shadow didn't get into much around the house and was most content to be close to me. So we left her out of her crate at night and she was happy to sleep on a dog bed next to our bed.  This ended the serenading. It did not take long for Shadow to become, well, my shadow. She followed me around the house, would howl and cry when I stepped outside to simply get the mail. I could see why Liz wanted Shadow to spend time away from her prior spending a week in training with the new owners. She needed Shadow to bond with someone other than her so the training would be possible.
Shadow definitely bonded to me. She would serenade Peter if I left the house without her. She also grew anxious when I left her. We discovered this one night when I spent the evening with some friends. Peter was still at home. Shadow serenaded Peter for a spell, then quieted down when she found our clothes basket and proceeded to pull out clothes and chew holes in some of them.  Chewing is definitely one of her anxiety actions. One day I put a leash on her so I could ensure she stayed on her "go place." I gave her a rawhide and she laid down and started chewing on the raw hide, at least that is what I thought. Turns out she chewed through the leash. This little dog is a strong chewer.
One neat thing about our time with Shadow was seeing her personality come out little by little. Each week some additional aspect of her personality would surface.  One of the first things I remember her doing was seeing her reflection in mirrors, front of the dishwasher, in a glass door and giving a deep growl. She is very in tune to noises around the house. Often she would lift her head and cock her ears to a noise.  She didn't care for loud kitchen appliances – immersion blender, food processor. When I would use them, I'd find her sitting in our bedroom, as far away from the kitchen as she could get.
It took a couple weeks to get Shadow to get up into the car on her own.  This was important because we traveled to training class each week and she would go additional places with me.  I didn't want to have to pick her up and place her in the car. I wanted her to be willing to get in the car on her own. At first she just froze unsure of what to do. I found I could coax her into the car if I was in the backseat encouraging her to enter. She would climb up one foot at a time. The last week we had her, Shadow found her jumping ability and she jumped into vehicles, she even jumped in the trunk of the car at one point.
Pablo and Shadow never played. They came close a couple times, but they never quite figured it out. They lived together nicely, sharing sun and chewing raw hides together.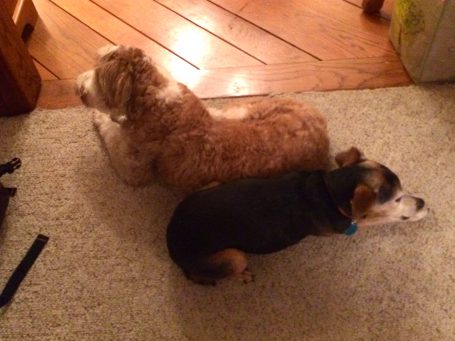 Shadow did decide to fetch her last week with us. She would bound after a thrown toy. It was a joy to see her acting playful.
Shadow is not without talent. Liz taught her to smile (lift her upper lip and show her teeth). She would smile in greeting when we returned home and she would smile on command as well. She has quick little steps and when she was crated this became quite obvious. Like a tap dancer! I did see the poodle prance too, she would grab the food bowl and prance into the living room with it.
During walks in the neighborhood, Shadow would gravitate toward any child we passed. She loves children and would greet them all, wagging her little nubbin tail. Shadow is truly a people dog. I took her to a dog park several times and she would greet the people and pay no attention to the dogs.
She enjoys a good run. She took to running figure eights in the yard. Just a couple of them and then want to be back in the company of people. Pablo, Shadow and I enjoyed some hiking in Berea one beautiful fall day. It was nice to see Shadow explore on her own some.
Shadow got to take a road trip to PA with us for Thanksgiving. She traveled well and basically slept the entire time. Shadow got to enjoy the snow, a bon fire, an active house, and what I believe was her favorite thing, to make friends with my mom. Shadow enjoyed snuggling with my mom during our time in PA.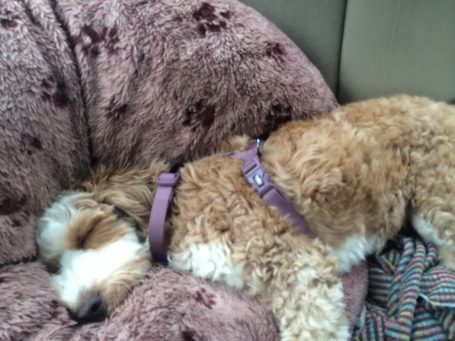 A big change for Shadow came after Thanksgiving. She would meet her new family! She is to provide comfort to a young girl named Carli. I was so thrilled to meet this family and get a sense of what Shadow's job would entail.  It is simply amazing, the more I learned about this family and Shadow's role in it, the more perfect I realized Shadow is for her job. Her personality, love of children, her desire to be close to people, and receive pets and snuggles will suit her well in her new home.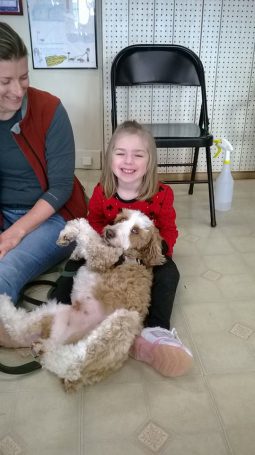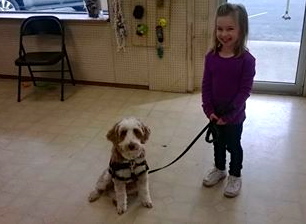 Shadow's gentle spirit is something I will always remember. I enjoyed getting to know her and watch her personality bloom over the weeks she spent with us. It was such a blessing to have Shadow as a charge for a short time, knowing she's got something bigger and better planned for her, then meet her family and hear how Shadow's has impacted their lives – it just doesn't get any better than that!